Andy Coulson finishes Downing Street communications job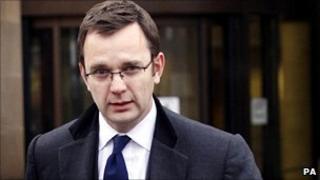 Prime Minister David Cameron's communications director Andy Coulson has left his Downing Street job
The former News of the World editor finished on Monday, having handed in his resignation 11 days ago.
Downing Street said he had "finished what he wanted to finish" and had said a "proper goodbye".
Mr Coulson, a former News of the World editor, has blamed the phone-hacking scandal at the paper for making it hard to focus on his government role.
He had been expected to stay in Downing street for a few weeks while a successor as Mr Cameron's director of communications was found.
'His choice'
But a Downing Street source said: "He had finished what he wanted to finish and good progress is being made with his replacement.
"It was his choice to leave quietly but he said a proper goodbye to the prime minister and those he worked closely with."
Mr Coulson resigned as editor of the News of the World in 2007 when its royal editor, Clive Goodman, was jailed for conspiracy to access phone messages. Private investigator Glenn Mulcaire was imprisoned for six months on the same charge.
A Press Complaints Commission investigation in May 2007 found no evidence that Mr Coulson or anyone else at the paper had been aware of Goodman's activities.
That same month he became Mr Cameron's director of communications.
But pressure had mounted on him in recent months, amid renewed newspaper investigations into the scale of phone hacking at the Sunday tabloid. Mr Coulson himself was interviewed as a witness by police in November.
In December, Director of Public Prosecutions Keir Starmer said no new charges would be brought in the case, owing to a lack of admissible evidence.
But some public figures are taking civil legal action against the newspaper.
After Mr Coulson resigned, Labour leader Ed Miliband said there were "questions about David Cameron's judgement about hanging on to him as long as he did".
However, the prime minister praised Mr Coulson as a "brilliant member of my team".