Barnier challenges UK on post-Brexit border proposals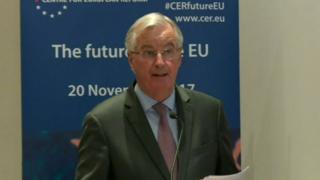 The UK must come forward with proposals aimed at avoiding a hard border in Ireland, the EU's chief Brexit negotiator has said.
Michel Barnier said it is, so far, unclear what the UK is willing to commit to in Northern Ireland.
That echoes the position of the Irish government.
It wants the UK to give more commitments before the Brexit talks can begin considering a trade deal.
The prime minister has repeatedly said that the "unique circumstances" of Northern Ireland will require a "specific" solution.
During a speech in Brussels, Mr Barnier focused on the issue of what EU rules may continue to apply in Northern Ireland after Brexit.
He said: "There are over one hundred areas of cross-border co-operation on the island of Ireland.
"Such co-operation depends, in many cases, on the application of common rules and common regulatory space."
He added that the UK has said it would continue to apply some EU rules on its territory after Brexit but it is "unclear what rules will apply in Northern Ireland after Brexit".
UK ministers and unionist politicians have said they will not accept an arrangement which will "endanger the integrity of the UK single market".
However, Mr Barnier said Northern Ireland already has specific rules in some areas that are different to the rest of the UK.
He pointed to the "all-island" single electricity market, or specific regulations for plant health for the whole island of Ireland.
The DUP has criticised Mr Barnier's comments, describing them as an attempt to "bully the UK government toward support for a Brexit border scenario which would weaken Northern Ireland's constitutional position and devastate the local economy".
'Cut off'
MEP Diane Dodds said any Brexit deal must reflect the fact that Great Britain is, by far, Northern Ireland's most important marketplace.
"We will not be cut off from the rest of UK either by associate membership of the EU or by regulatory divergence from Great Britain," she said.
"The DUP will exert our influence to ensure this is the case."
On Friday, Prime Minister Theresa May was told she had two weeks to makes progress on the border and the Brexit bill if the EU is to agree to begin Brexit trade talks before the end of the year.
EU Council President Donald Tusk said he was "ready" to move onto the next phase of Brexit talks, covering future relations with the UK.
But he said the UK must show much more progress on the "divorce bill" and the Irish border by early next month.
Mrs May said "good progress" was being made but more needed to be done.