Bushmills Victoria Cross hero may get hometown statue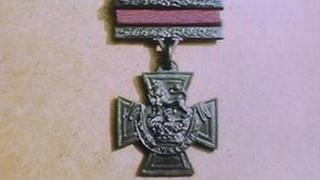 Plans are afoot to secure a dedicated memorial to an Ulster war hero in his home town.
The possibility is being examined of having a dedicated memorial or sculpture in Bushmills to honour Sergeant Robert Quigg, who was awarded a Victoria Cross for his heroics in the Battle of the Somme.
Discussions have taken place at Moyle Council in Ballycastle and it was agreed to write to the Royal British Legion in Bushmills and the MacNaghten Estate in Bushmills to get their views.
Many would like to see a memorial in place in Bushmills ahead of 2016 which will be the centenary of Quigg's heroics in World War One.
Bushmills historian Robert Thompson said: "In July of 1916 Robert Quigg risked his life to rescue wounded soldiers at the Somme and was awarded the Victoria Cross for his efforts.
"He is the only Victoria Cross winner north of Belfast, yet he is ignored by his home town of Bushmills. If this was anywhere else in the world he would be feted and honoured forever."
North Antrim Ulster Unionist MLA Robin Swann is also pushing for a memorial.
He said: "While Robert is acknowledged by the presence of a plaque at the War Memorial, the community have suggested that a more fitting tribute or a statue or sculpture could be provided in time for the centenary of his actions.
"I am sure the community will play a full part in planning such a tribute but clearly leadership from the Council in delivering such a memorial will be very important."
Bushmills man, Robert Quigg enlisted in the 12th Battalion, Royal Irish Rifles (Mid-Antrim Volunteers) during World War One. His platoon commander was Lieutenant Harry McNaghten, the heir to the Bushmills' McNaghten Estate.
No-mans land
On 1 July Robert's platoon advanced three times only to be beaten back by the Germans. Many hundreds of the 12th Battalion were either killed or wounded. In the confusion of battle it became known that Lieutenant McNaughten was missing. Robert Quigg immediately volunteered to go out into no-mans land and search for his commander.
His actions during that fruitless search led him to receive the Victoria Cross. His citation reads as follows: "Hearing a rumour that his platoon officer was lying wounded, he went out seven times to look for him, under heavy shell and machine-gun fire, each time bringing back a wounded man.
"The last man he dragged on a waterproof sheet from within yards of the enemy's wire. He was seven hours engaged in this most gallant work, and was finally so exhausted that he had to give it up."
The body of Harry McNaghten was never found.
Robert Quigg returned to Bushmills to a hero's welcome. He died in 1955 and was buried with full military honours at Billy Church.
Ulster Unionist councillor Joan Baird described Quigg as "a very famous hero of our area".
Special wreath-laying ceremonies are held each year at Billy Parish Church where Sergeant Quigg is buried.
He is also commemorated on a bannerette carried by Silver Plains Flute Band in north Antrim.