Six-week extension granted for super council to agree on Dungiven centre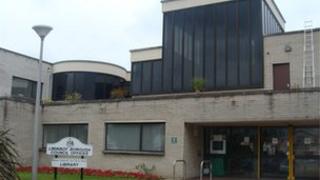 Councillors in Limavady and Coleraine have been given six more weeks to reach agreement on a new £7m leisure centre in Dungiven.
Unionist councillors refused to support the proposal at a Causeway Coast and Glens super council meeting last week.
They wanted more information about plans. This meant the project could not be signed off on time.
However, a six-week extension was granted at an emergency meeting of Limavady Borough Council on Wednesday.
Funding for the new leisure centre and playing fields has been in the pipeline for more than three years. The five companies involved in the project agreed to the extension.
'Irrelevant'
Speaking after the meeting, SDLP councillor Michael Coyle said: "I was so angry, I was disappointed, I had a range of emotions when I was at the super council meeting last week.
"The project was well under way. Any delay could have had major implications. This has already gone through the statutory transition committee for Causeway Coast and Glens.
"I have concerns about people's rates but we are talking about value for money here and the people of Dungiven need these facilities. The people of Dungiven have been crying out for the facilities for years."
However, UUP councillor Edwin Stevenson said he thought the emergency meeting was "irrelevant and unnecessary".
"It is dangerous that this old council is being seen to undermine the new Causeway Coast and Glens shadow council," he said.
"What's appropriate for Dungiven? Does it need to be a £7m development? I think it's important that we just don't look at Dungiven in isolation here."
Mr Stevenson said he felt other councillors were belitting the impact that the Dungiven project would have on ratepayers.