Limavady councillors to meet over Dungiven funding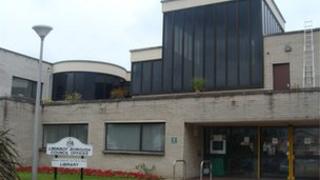 Limavady Borough Council will hold an emergency meeting on Wednesday over a decision made at a super council meeting to halt over £7m in funding for sport facilities in Dungiven.
Funding for new sport and leisure facilities has been in the pipeline for more than three years.
The tender deadline was Wednesday.
The shadow Causeway Coast and Glens super council put a moratorium on spending for a month, which means the project will not be signed off on time.
The project was one of a number brought forward for approval.
Unionist councillors refused to support a proposal at a Causeway Coast and Glens super council meeting that would have allowed the Dungiven project to be heard separately.
'Disgrace'
The proposal was not heard because "there wasn't enough information on it", according to UUP councillor William McCandless.
The Department of Environment issued new guidelines in May stating that all capital contracts over £250,000 need shadow council approval.
Sinn Féin councillor Sean McGlinchey said: "This project has been put on hold and it's a disgrace.
"We are holding this meeting to get clarity from council officials to see if anything can be done to save this project, which is at a very advanced stage.
"We were hoping to select the design team today (Wednesday) to go into the community to design the project.
"Everything has been above board with this and for the unionist councillors to turn around and say they need more information about it is not on.
'Disappointed'
He added: "There are no sport facilities for the people in Dungiven. All we were asking for was for this to go ahead."
However, UUP councillor William McCandless said: "There are different projects wanted in other council areas.
"We need to understand population density here.
"I know Dungiven has been planned for some years but so has the Joey Dunlop centre and other projects in Coleraine.
"The only justification for the Dungiven project we had was 150 words. That is simply not enough."