Two men jailed for setting up international drugs ring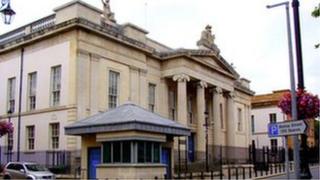 Two men have been jailed at Londonderry Crown Court for setting up an international drugs ring to smuggle drugs into Northern Ireland.
James Thomas O'Donnell, 24, and Jamie Anthony Doherty, 22, pleaded guilty.
Both men faced a total of 14 charges linked to the importing, possessing and supplying quantities of cocaine, 4-Mec and diazepam.
The charges are related to dates between August 2011 and October 2012.
James Thomas O'Donnell, whose address was given as care of Maghaberry Prison, has been jailed for four and a half years.
Jamie Anthony Doherty, from Glenside Gardens in Derry, has been jailed for three years and nine months.
Both men will serve half of their sentence without remission and half on licence when they are released from jail.
The pair were caught on 11 October 2012, when O'Donnell was arrested for an unrelated matter.
In the police station, he was overheard telling his brother to clear out his house.
As a result of that remark the property was searched and police found drug paraphernalia including dealing bags and weighing scales.
Also in the same month, a package from China, addressed to O'Donnell, was intercepted by staff at the Parcel Force depot in Coventry.
It contained one kilo of 4-Mec contained in a heat-sealed plastic bag and had a street value of £20,000.
Between September 2011 and February 2012 forensic accountants discovered that over £30,000 had been moved through O'Donnell's bank account and that of his girlfriend.
As a result of the forensic examination of Doherty's computer and mobile phone, the police found emails and text messages that showed he was looking for sellers and that he was involved in supplying drugs.
Judge Philip Babington took note of the fact that O'Donnell started using drugs in 2010.
The court was told that O'Donnell had a healthy lifestyle and won five Ulster boxing championships.
Mr Babington said that O'Donnell told the author of a pre-sentence report that he was "riddled with guilt every night".
The judge said O'Donnell "got a reputation and there was a high demand for 4-Mec and he sold to others who then sold to consumers. He thus built his business and made considerable sums of money."
In relation to Doherty, the judge said he was a "cocaine and methadone addict who became involved with O'Donnell because he was in awe of the lifestyle which involvement in drugs had afforded O'Donnell and he thus became involved".
Judge Babington said O'Donnell, who bought and sold drugs in large quantities, was "the leader of his own particular organisation".
"It may not be particularly large in numbers nor might it be making vast quantities of money, but it has undoubtedly made money for him in the past," said Mr Babington.
"There is absolutely no evidence at all that he is taking orders or instructions from anyone else. He is the person who decides on purchases and he is the person who appears to be in charge of distribution to others to sell for him in particular."
In relation to Doherty, Judge Babington said it was clear he had four people working for him who each sold half a bar per week, generating income of about £10,000 per week.
Judge Babington said: "O'Donnell saw an opportunity to make money for his own benefit which is why he smuggled 4-Mec from China.
"He showed little acknowledgement of the evils that drugs use caused to innocent people."