Londonderry car arson: Man remanded in custody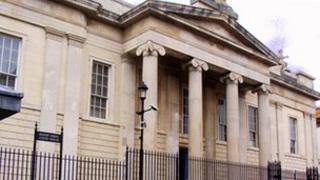 A 21-year-old man has been remanded in custody at Londonderry Magistrates' Court charged with stealing and setting fire to a car on Monday night.
A 17-year-old boy has been released on bail until July after he appeared in court on similar charges.
The car was stolen at Hinton Park, near the Limavady Road in Derry.
Daniel Martin Armstrong, 21, of no fixed abode, was only released from prison in the Republic of Ireland three weeks ago.
He had been sentenced for similar offences.
'Joyride'
He along, with the youth, was arrested after the stolen car was found burnt out at Creevagh Park, near Nixon's Corner, on Tuesday morning.
The police were called to the scene when a local resident contacted them to say she had used her mobile phone to photograph the arson of the car outside her home.
Mr Armstrong, who has 22 previous convictions, and the 17-year-old, were arrested as they walked along Fanad Drive in Creggan on Tuesday morning.
A police officer told the court that after the car was stolen, it was then driven around counties Derry and Donegal.
The court was also told that when it was in Donegal, three burglaries were reported to the police.
The officer said the 17-year-old had no previous convictions but that Mr Armstrong had a "propensity to joyride".