Donal McKeown installed as Catholic Bishop of Derry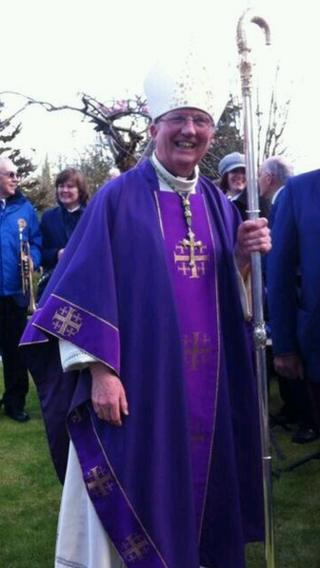 The new Catholic Bishop of Derry, Donal McKeown, has been officially installed in his role during a church ceremony in the city on Sunday afternoon.
He was appointed by Pope Francis in February, but his tenure began during Mass in St Eugene's Cathedral.
The leader of the Catholic Church in Ireland, Cardinal Seán Brady, was among senior clergy taking part.
The cross-border diocese spans four counties. It includes most of Derry and parts of Tyrone, Antrim and Donegal.
The Pope's special envoy to Ireland, Archbishop Charles Brown, also took part in the installation ceremony.
In his role as apostolic nuncio, Archbishop Brown, read the mandate given by Pope Francis to the new leader of the Derry diocese.
Theology
Bishop McKeown, who will celebrate his 64th birthday next week, is a former auxiliary bishop of the diocese of Down and Connor in the east of Northern Ireland.
Born on 12 April 1950 to a watchmaker father and school teacher mother, he was brought up in Randalstown, County Antrim.
As a teenager, he studied at St MacNissi's College, Garron Tower, in Carnlough, before graduating from Queen's University, Belfast, with a degree in German and Italian.
After university, he moved to Rome where he studied theology and philosophy for five years, before returning to Northern Ireland to become a priest.
Donal McKeown was ordained at the age of 27 in the Diocese of Down and Connor and took up a teaching post at St Patrick's College in east Belfast.
During a long career in Catholic education, the then Fr McKeown also taught at his old alma mater, St MacNissi's College, and at St Malachy's College in Belfast.
He was promoted to the role of auxiliary bishop of the diocese of Down and Connor in 2001 and held the post for 13 years.
'Nakedly sectarian'
During that time, he led the Catholic Church's response to the withdrawal of the eleven plus exam in schools in Northern Ireland and the controversial changes to academic selection processes.
Last year, he hit the headlines when he said Catholics viewed the Democratic Unionist Party's views on integrated education as "nakedly sectarian".
The bishop accused the DUP leader Peter Robinson of implying that the Catholic Church was blocking moves on integrated schooling.
Mr Robinson responded by saying that Bishop McKeown had "somewhat lost the plot".
"How anybody who is looking for shared education can be seen to be sectarian is beyond me and beyond everyone else," the DUP leader said at the time.
Donal McKeown's new title, Bishop of Derry, dates back almost 900 years, to the middle of the 12th Century.
However, the diocese has been without a bishop since Dr Séamus Hegarty retired in November 2011, due to ill health.
Caretaker roles
Since then, the bishop's role has been filled on a temporary basis by two diocesan administrators.
The first was the then Monsignor Eamon Martin, who has since been ordained coadjutor Archbishop of Armagh, a title which infers he is likely to succeed Cardinal Brady as the leader of the Catholic Church in Ireland.
Following Eamon Martin's promotion last year, a 43-year-old priest was given the caretaker responsibility of overseeing the day-to-day running of the Derry diocese.
Fr Francis Bradley took up the role of Derry diocesan administrator on 23 April, on the understanding that a new bishop would be appointed shortly by Pope Francis.