Limavady schools in £8.5m shared education bid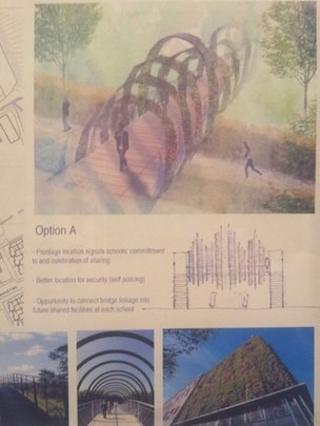 Two County Londonderry schools, run by the Catholic Church and the state, have announced plans to open a multi-million pound shared education campus.
Limavady High School and St Mary's High School, which are next to each other, are bidding for £8.5m to develop shared educational facilities.
They would, however, remain as two separate schools.
The principals for both schools have outlined their plan to Limavady Borough Council.
Nationalist and unionist councillors clashed over plans to connect the two high schools with a "unity bridge" in October.
The two schools are separated by a single footpath.
Expansion
Education Minister John O'Dowd launched a new Shared Education Campus Programme in January.
Under the programme, his department is seeking to invest in "innovative projects" involving shared facilities.
Schools have until the end of March to submit their proposals.
Improvement works on the footpath that separates both schools would cost £25,000 and the "unity bridge" would cost around £400,000.
The shared campus expansion would cost £8m, according to the school principals.
Mary McCloskey, principal of St Mary's High School, said: "We have all the work done and we are just waiting to send it off."
Shane Lavery, principal of Limavady High School, explained: "This centre, which will be accessed by all, will have dedicated technology and science rooms.
"It will benefit the pupils, firstly of Limavady High School and St Mary's, but also pupils from other schools.
"We have no facilities for these sixth form children because we are not a grammar and we are not entitled to any funding."