Hyponatraemia inquiry: Family compensated with £40,000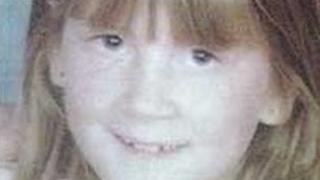 A family from Londonderry has received £40,000 in compensation at the Belfast High Court following the death of their daughter in 2001.
Nine-year-old Raychel Ferguson died a day after an appendix operation at Altnagelvin Hospital in Londonderry.
The Western Health Trust admitted liability during the inquiry into hyponatraemia-related deaths.
Raychel's parents have said "no amount of compensation could ever replace" their daughter.
Speaking outside the court, Raychel's mother, Marie, said the system needed to "change massively".
"It took the Western Trust 13 years to admit liability for my daughter's death and if they had have admitted liability way back then, then I wouldn't have to be standing here today," she said.
"I had to go through a public inquiry, a police investigation, go through a coroner's court and then they think they can turn around and offer you £40,000, it's a total insult, an absolute disgrace."
An inquiry was established in 2005 to look into the deaths of five children.
It is examining the deaths of three children, Adam Strain, Claire Roberts and Raychel Ferguson. It is also investigating the events following the deaths of Lucy Crawford and Conor Mitchell.
In relation to four of the deaths, hyponatraemia is said to be a contributing factor.
Last November, the Belfast Health Trust formally apologised for the shortcomings in the care of five children who died at the Royal Hospitals in Belfast.
The trust's chief executive, Colm Donaghy, told the hyponatraemia inquiry that the agony and pain felt by the parents cannot be underestimated.
Hyponatraemia is an abnormally low level of sodium in blood and can occur when fluids are given incorrectly.