Bloody Sunday investigation: 20 people come forward to give evidence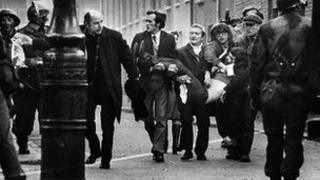 The police officer leading the criminal investigation into Bloody Sunday has said that just 20 people have come forward to give evidence.
In January, the police appealed to more than 1,000 witnesses, including former soldiers, to provide statements.
Detective Chief Inspector Ian Harrison said the response was "disappointing".
Police need to re-interview witnesses because testimony from the Saville Inquiry cannot be used in a criminal investigation.
Thirteen people were shot dead by the British Army on Sunday, 30 January 1972 at a civil rights march in the city.
A 14th man died later from his wounds.
In 2010, the Saville Inquiry into Bloody Sunday was heavily critical of the Army, finding that soldiers fired the first shot without issuing a warning.
The report also found that all of those who were killed were unarmed. Some of them were clearly fleeing or going to the assistance of others who were dying.
As part of the police investigation launched in 2012, detectives want to re-interview former soldiers and civilians who gave evidence to the Saville Inquiry or who may have information about the day.
Speaking on Thursday, Ch Insp Harrison said: "If we are to make progress, we need witness statements.
"To date, we have had a slow uptake and we have had about 20 people who have made direct contact with the inquiry line or email address.
"We are having difficulty in tracing people. I do appreciate that it is a sizeable volume that we wish to speak to."
The senior police officer said he had written to a few hundred soldiers and to date, some had been in contact.
"We are renewing our appeal and placing additional advertising to increase awareness of what we're working to achieve," he said.
"Anyone with information can contact the investigation team on 028 9025 9593 or by email to BloodySundayEnquiry@psni.pnn.police.uk"