Garbhan Downey loses unfair dismissal case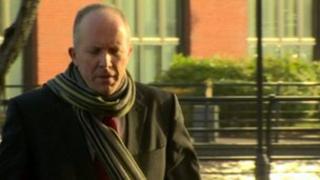 The sacked director of communications and marketing for Londonderry's Culture Company has lost an industrial tribunal for unfair dismissal.
Garbhan Downey was sacked for gross misconduct in January 2013.
This followed his suspension in October 2012 after he voiced fears that marketing funding for 2013 could be re-directed by Derry City Council.
Final submissions were made to the tribunal last December. His solicitors said they are considering an appeal.
The Culture Company had accused Mr Downey of gross misconduct regarding the release of a letter sent by the chief executive of Derry City Council, Sharon O'Connor, to the Culture Company.
Mr Downey claims he went to the media with a complaint that he believed was in the public interest.