UK City of Culture 'made safe and successful by people power'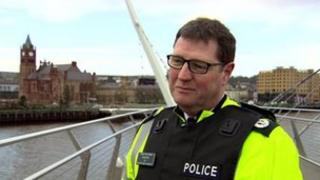 The police officer in charge of security during Londonderry's year as UK City of Culture has praised the people of the city for making the year safe and successful.
ACC Stephen Martin said "people power" had helped ensure dissident republican groups did not disrupt events.
In October 2011, dissident republicans planted a bomb outside the City of Culture offices in Derry.
It led to fears that events like the Turner Prize might be attacked.
In the end, there was no disruption during the city's year of culture in 2013.
"I think the City of Culture year really helped relationships between both communities in the city," ACC Martin said.
"I think it also did wonders for the confidence of the city. No longer does it have to look over its shoulder towards Belfast.
"It can stand on its own two feet. Socially and culturally, it has a lot to offer. It has its own 'mojo' and I think it can look to the future with great optimism."
The senior officer said that statutory bodies in the city worked "really well together".
"A lot of preparation went into it. Logistically the city was prepared," he said.
"Secondly, there was people power - the people of the city and the surrounding region came to events in their tens of thousands. Look at the fleadh, over 400,00 people in one week.
"I think when the public came out and supported the events like they did, their people power disempowered people who wanted to confront the City of Culture, in this case the dissidents.
"So the people of the city must take great credit."
Until being recently promoted, ACC Martin was the PSNI commander in Derry.
He said: "We had officers on bicycles, officers on foot patrol, we had an opportunity to really engage with the community in the city here and let them see the humanity behind policing."
Cross-community relationships in Derry improved during the past year, he said. The challenge for all concerned is now to maintain the new relationships.