John McBride jailed after crashing twice on drunken spree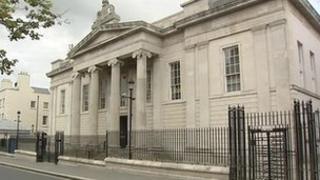 A drunk driver who crashed into two cars and left what a judge described as a "trail of destruction" in his wake has been jailed for 18 months.
John McBride, from Lower Galliagh Road, Londonderry, was twice over the legal alcohol limit for driving when he got into his car in the city last year.
He crashed into the first vehicle as he tried to overtake it on Northland Road on 9 May. He later collided with a second car on Branch Road.
He has 41 previous driving convictions.
Londonderry Crown Court heard that other motorists had to take evasive action to avoid crashing into 38-year-old McBride during last year's incident.
He was caught when the driver of the second car he crashed into followed him to a nearby shop and phoned the police.
The judge told McBride that he drove like "a mad man", as the accused admitted at total of nine charges arising from his dangerous driving.
He nodded in agreement when the judge said someone could have been killed.
The judge also described McBride's record of 88 previous convictions, 41 of them for driving offences, was "appalling".
In addition to the jail sentence, he has been disqualified from driving for three years.