Altnagelvin Hospital says most services resumed after fault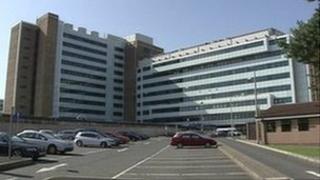 Altnagelvin Hospital has said most services have returned to normal following an electrical fault in the south wing.
It happened in the basement plant area on Monday and led to services being severely disrupted.
The hospital carried out an assessment on Tuesday and was able to restore most services.
It said the fault was still having some impact in the endoscopy unit at the hospital.
Geraldine McKay, director of acute services for the Western Health and Social Care Trust said: "As a result the trust is temporarily diverting the decontamination of scopes which are used by the endoscopy service to the Tyrone County Hospital in Omagh, in line with the trusts normal contingency planning arrangements.
"This is currently working well with scopes already returning for use to Altnagelvin Hospital from Monday night.
"The plant affected has already been temporarily replaced, but must go through a five-day testing cycle before it can be fully operational.
"For this reason, there will be some disruption to planned elective procedures to be carried out at the endoscopy unit this week and next, and the trust is actively seeking ways to minimise the impact this will have on patients.
"To date only nine procedures have had to been rescheduled.
"The trust's key priority at this time is to ensure that emergency and urgent cases will remain unaffected, and detailed plans are being developed to minimise the general impact of the incident on services."