Londonderry hosts flagship Twelfth demonstration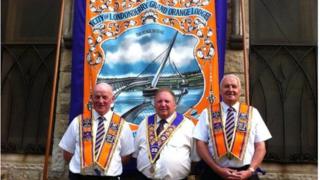 The Orange Order held its main Twelfth of July demonstration in Londonderry.
Thousands of spectators watched 60 lodges and 40 bands march through the city in the flagship event.
The organisers of the Londonderry parade said the location was chosen to mark the Orange Order's involvement in the UK City of Culture celebrations.
They said they were delighted to stage the flagship parade during "a very special year for the city".
Police district commander Stephen Martin said preparations for the day had been made well in advance. Speaking after the morning parade was over, he said there had been no major problems.
He praised everyone who worked towards making the day a success.
Three of the most senior Orangemen in the British Isles - the grand masters of England, Scotland and Ireland - took part in the demonstration.
City of Londonderry Grand Lodge officers carried a new hand painted banner and were wearing new collarettes to commemorate Londonderry's UK City of Culture status.
As the parade got under way, Deputy First Minister Martin McGuinness tweeted that the new Orange Order banner leading the parade features Derry's peace bridge.
"I like that," he said.
The demonstrations mark the annual celebration of William III's victory at the Battle of the Boyne in 1690.
The Orange Order sought to recreate a sense of the history surrounding the Twelfth demonstrations and two people, dressed as King William and Mary, led the procession through the streets of the city, famous for the siege of 1688.
The main speaker at the demonstration field at Wilton Park was Edward Stevenson, Grand Master of the Grand Orange Lodge of Ireland.
The Twelfth demonstration marks the culmination of the City of Londonderry Grand Orange Lodge's UK City of Culture 2013 cultural programme, which began in April.
Events included a theatre-in-education production, The Billie Girl, a lecture series and a festival day at Wilton Park.
The parade is one of 18 large demonstrations across Northern Ireland.