Northern Ireland is the world's best 'laboratory for peacemaking'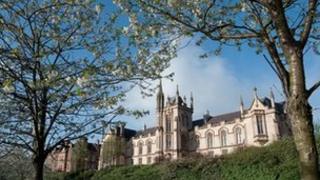 Northern Ireland has been described as "the world's premier laboratory for conflict transformation" by a US academic and expert in peace studies.
Dr Michael Minch, from Utah Valley University, was speaking as almost 40 international peace activists and policy makers meet in Londonderry.
Delegates from 10 countries, including Turkey, Rwanda, South Africa and Nigeria, are attending the week-long INCORE International Summer School.
The event is now in its 14th year.
INCORE is an international conflict research institute based at the University of Ulster.
'Intense week'
The summer school is taking place at the university's Magee campus in Derry.
The international delegates are joining local experts for an "intense week of reflection on state-of-the art learning and practice in managing, resolving and transforming conflict".
Dr Minch, who is the director of a Peace and Justice Studies programme in Utah, has brought 12 students from his university to take part in the summer school.
"Our world needs peace and therefore we need peace builders and we need to train them," he said.
"We bring students to Northern Ireland because it is the world's premier laboratory for conflict transformation and peace building.
"No other location holds the concentration of scholars, professional peace builders, participants, and victims who are so knowledgeable, articulate, and accessible."
'Suffering'
Dr Minch added that Derry and its citizens were a "vast resource" for his students because the city is "filled with people who know a lot about the pain and suffering of conflict and the beauty and joy of peace".
INCORE was established in 1993 and is celebrating its 20th anniversary this year.
Northern Ireland's Commissioner for Victims and Survivors, Kathryn Stone, is due to address the summer school delegates on Wednesday.
Her lecture is entitled Engaging, Acknowledging and Supporting Victims in Post-conflict Northern Ireland.