Battle of the Atlantic: Torpedo survivor remembers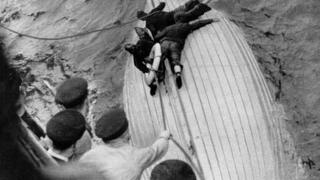 Commemorations of the 70th anniversary of the climax of the Battle of the Atlantic have brought back vivid memories for a Northern Ireland woman who survived a U-boat attack.
The battle was the longest continuous military campaign in World War II, lasting from 1939 until 1945.
More than 66,000 Allied merchant seamen, sailors and airmen lost their lives, with 175 Allied warships and 5,000 merchant ships destroyed by German U-boats.
In September 1940, Eve Stafford, from Sion Mills, County Tyrone, was travelling by sea with her mother to meet her father, who was in the army in India.
"We were torpedoed at 1.35 in the morning," she said.
"We were on the City of Simla, a passenger boat going out to India with women and children and cargo.
"We went in a convoy from Glasgow and were torpedoed off Aranmore island, County Donegal."
Eve said about 40 people were killed when the torpedo hit the ship, but the vessel sank quite slowly so most people were able to board the lifeboats.
"It was the most ferocious bang. We were in our cabin and we got up quickly," she said.
"We were dressed, they always told you to be dressed in case anything happened while we were in the Atlantic."
Eve was 12 years old when the City of Simla sank.
"We were so lucky that we were able to get into the lifeboats and to get away from the ship and be picked up in those enormous seas that were there out in the Atlantic at that time," she said.
"Some of the women, as well as two men, rowed away keeping our boat head-on into the wind, so we weren't swamped."
The survivors were picked up by a merchant navy ship, the Guinean, one of the group escort ships. Those boats were there to help any boat that was torpedoed.
Two other ships were also sunk that night: the New Sevilla and the Boka.
"The merchant navy were so wonderful when we were picked up. They came down into the lifeboats and helped us up," Eve said.
"When we returned to Glasgow, we just had what we stood up in. We lost everything and then returned to spend the rest of the war with my grandparents in Strabane."
Eve said that the experience had not prevented her from travelling by sea - she eventually made it to India with her mother in 1944.
The memories of the sinking are still vivid and she refused to go to see the movie Titanic. And she still remembers those who were not so fortunate.
"I think the people were so brave, it was such a tough war, the Battle of the Atlantic really was tough. So many were lost."