Derry attack: Pipe bomb explodes in letterbox in Waterside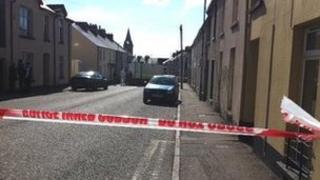 A pipe bomb has exploded after being put in the letterbox of a house in Londonderry.
It happened at Bonds Street in the city's Waterside.
It is understood a man lives in the house and he has only moved in recently. Detectives are still looking for a motive for the attack.
Twenty homes and five businesses were evacuated during the security alert, which is now over.
One man said he could easily have been caught up in the explosion.
"I walked up and down past it twice, I actually passed the front of the house a second time," Paddy Hargan said.
"I think I'm very, very lucky - if that had of went off."