New prison to be built at Magilligan, County Londonderry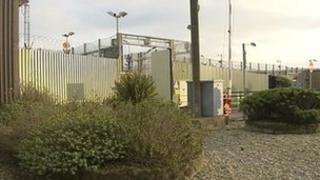 A new jail is to be built at Magilligan in County Londonderry.
Justice Minister David Ford is due to tell the assembly of his plans for Magilligan and other jails on Tuesday morning.
A consultation process into the prison's future was carried out last year.
The Prison Service had wanted to replace it with a new jail closer to Belfast.
Mr Ford is expected to tell MLAs that Magilligan Prison will be redeveloped over the next seven years.
The prison will stay open during that period.
There will be a new accommodation block, a new central activities block, a welcome centre, and independent living units for soon-to-be-released prisoners.
The move is part of programme to upgrade prisons in Northern Ireland, including Maghaberry and Hydebank. It is expected to cost about £200m.
East Londonderry MP Gregory Campbell said the employment of more than 400 prison staff - as well as jobs in the construction industry - were big factors in wanting to keep a jail at Magilligan.
'Massive boost'
"It is the Northern Ireland Prison Service. It's not the greater Belfast Prison Service," he said.
"There are a number of facilities in the greater Belfast area and it is important that prisoners and families and others have employment and visiting opportunities outside the greater Belfast area," he said.
William McKee, a former senior governor in the prison service, said it was a "massive boost" for the north west.
"I've been hearing rumours over this past number of months that Magilligan might get a reprieve," he said.
"I'm delighted for the people in Magilligan, but more broadly for the local economy.
"You have the suppliers that supply the prison, you have the wages of the prison officers that are spent in the local economy and, if they go ahead and build this new prison, it'll create jobs."