Broighter gold hoard may return briefly to Limavady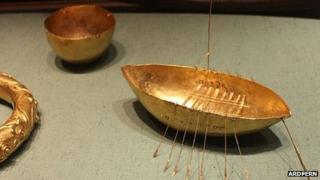 A hoard of Iron Age treasure may be making a temporary return to the County Londonderry town where it was found.
The Broighter hoard is a collection of gold artefacts found by Tom Nicholl on farmland near Limavady in the 19th century.
The treasures include a golden boat, torc and bowl and are currently held by the National Museum of Ireland in Dublin.
However, the museum has now agreed to conditionally lend it to Limavady Borough Council for display.
Historian Ken McCormack said: "I think we want to see it permanently back in Northern Ireland and you have to congratulate Limavady council.
"All the people in Northern Ireland could get to see this, it is absolutely beautiful.
"Wouldn't it be wonderful if it could do a tour of the province and that everyone could see it?
"The national museum in Dublin have given their accord to it in principle and it will take a little time to resolve issues of security and insurance, but let's hope it happens."
Mr McCormack said the golden hoard was discovered at the mouth of the River Roe at a place called Broighter, just a couple of miles from Limavady in 1896.
Edward Carson
"A ploughman turned it up almost on the shoreline and he found a set of gold objects, brought them to his former employer, a man called Joseph Gibson, who in turn brought them to a jeweller in Derry.
"They then went on from there to a dealer in Cork and from there to the British Museum.
"At the British Museum they were then on display, until the Royal Irish Academy in Dublin who represented the state in these things found out about it and went, as they say in modern times, ballistic."
The historian said the unionist leader and barrister Sir Edward Carson had a role in its eventual resting place.
Carson, who was solicitor-general at the time, represented the British government in the 1903 case that settled dispute over ownership.
A pivotal issue was that the items in the hoard were all closely packed, which was indicative of burial. It was held that the treasure was not a religious offering and was therefore surrendered to the crown.
"It is quite a set, it is reckoned to be the best of its type in Europe for the time, 3,000 years ago and from the La Tene period," he added.
"It was sold as a treasure discovered and then the argument came about, and it went on for years, that it was a treasure trove and was hidden in the ground, but the British Museum maintained it had been thrown overboard from a vessel as an offering to a sea god.
"This see-saw argument went on for years and Sir Edward Carson represented the state which wanted it back as treasure trove and to be returned to Dublin."
Mr McCormack said the golden collection continued to retain a mystery all of its own due to the circumstances in which it was found.
"The first thing Tom Nicholl turned up was the handle of an old umbrella and it appears the treasure was sitting inside it," he said.
"People are saying how did treasure from 3,000 years ago get inside an umbrella.
"So people have been suggesting that maybe it was somewhere else in Limavady and had been purloined."