Gruffalo in Londonderry's first children's literature festival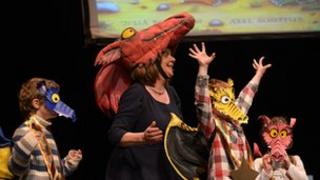 It is not every day you stumble across a Gruffalo.
But not even the infamous creature from the deep dark wood was enough to scare off hundreds of young people from taking part in Londonderry's first ever children's literature festival.
The Gruffalo is one of the UK's best-selling children's book by the author Julia Donaldson.
The Children's Laureate wants to encourage young people to act and to read aloud.
"I suppose I'm a frustrated actress," she admits.
"That was my first ambition and now the books have given me the opportunity to get on the stage. We get children in the audience to be the little dragons in Zog or the farmyard animals in another book."
Julia Donaldson was in Derry for the Humdinger Festival and is now embarking of a week-long tour of libraries in Northern Ireland.
She will also visit a prison.
"I'm going to be acting out some stories with some prisoners and their children. Prisoners can record stories that can then be heard by their children at home," she said.
The four-day Humdinger Festival opened on World Book Day on Thursday 7 March 2013.
Authors such as Roddy Doyle and Alex T Smith were among the household names who took part in more than 20 workshops, readings and performances.
Fionnuala Deane, the managing director of the Derry-based children's media company Dog Ears, said they hoped it would become an annual event.
"We want to leave a legacy in which children embrace stories," she said.
"We hope to encourage them to read more and inspire them to be bold enough to make up their own stories and have the confidence to express themselves."
Alex T Smith said book festivals are the perfect opportunity to meet his young readers.
"I was a bookworm before I could read and even now, it's really special when I meet an author," he said.
"It's really important to give children the opportunity to see books being brought to life."
Steve Sergeant brought his three children to see Julia Donaldson in the Millennium Forum.
"I read Julia Donaldson's books to the older girls when they were young and now the two-year-old is reading them with me. They whole series of books are fantastic and it's great to have Julia here in the city," he said.