Derry councillors clash over Bogside Artists' funding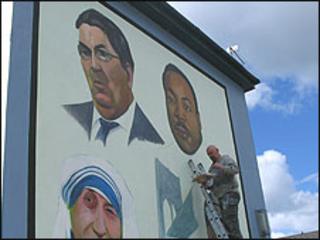 A row has erupted at Derry City Council over funding for the restoration of murals in the city.
The Bogside Artists group had originally made an application for more than £200,000.
But on Monday the council passed a motion granting substantially less than that.
The figure is now £45,000, jointly funded by the council and the Housing Executive.
The motion was passed by Sinn Fein and the DUP, but SDLP councillors voted against it.
Sinn Fein councillor Eric McGinley said the council could not afford to spend more money on the project and a compromise needed to be reached.
"We believe that with the £45,000 that is available at this moment in time, if the will is there from the Bogside Artists, they could actually complete the project," he said.
But SDLP Councillor Gerard Diver said the work of the Bogside Artists must be valued.
"The Bogside Artists have produced iconic work on the streets of Derry which is a huge tourism attraction for people who visit our city," he said.
"We are about supporting local artists and I think for people to penny pinch when it comes to something of this importance when it is replicated all over the world, I think it is something we need to question, particularly in the year of culture."