Ex-GAA star Brolly backs organ transplant opt-out campaign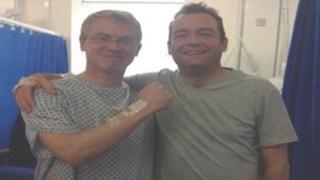 The former GAA all-star, Joe Brolly, has said it is crucial that Northern Ireland moves to a system where people can opt out of organ donation, rather than volunteer for it.
Mr Brolly donated a kidney to a fellow GAA member, Shane Finnegan, last year but the transplant failed.
The two men have become vocal lobbyists for a change in the law, even though Mr Finnegan remains ill.
Mr Brolly said families' wishes would continue to be paramount.
"Under the new system your loved ones will always have the final say," he said.
"The difference is a very subtle one, but it makes a massive change.
"The difference is there is a presumption that you want to donate your organs, unless you actually opt out on a register.
"The most successful organ donation countries in the world like Spain, Croatia and Portugal, this is the system they have in place and their rates are almost 100% higher than ours."
He said that currently more than 200 people are on the waiting list for organ donation.
"About 20 people die on the active waiting list every year, but a lot of people, every year, are no longer transplantable because they are on the waiting list for too long and they get too ill so they are taken off the waiting list and they just die in due course."
Mr Brolly met Health Minister Edwin Poots on Monday and also praised his support for the campaign.
"The minister has a brilliant attitude towards this," he said.
"His mum died very, very young because she couldn't get a liver transplant, and he has an uncle who had a kidney transplant and is flourishing now in his 80s.
"He spoke very movingly about a very close family friend of his, the father was his best man and their two-year-old son died and they allowed his organs to be donated and he said they got a huge consolation from that because his organs were used for a couple of kids to save their lives."
Mr Poots said there were a number of issues still to be addressed, before the opt out system was introduced.