Dalai Lama to visit Londonderry City of Culture venue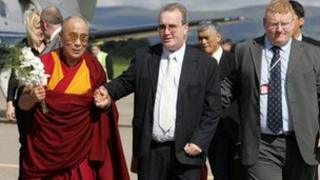 The Dalai Lama will visit Londonderry in April 2013 as part of the UK City of Culture
The spiritual leader will be the guest of honour at Children in Crossfire's event called 'Culture of Compassion' at the Vital Venue in Ebrington.
The Dalai Lama last visited the city in 2007 when he attended anniversary celebrations for the charity.
Children in Crossfire promotes early childhood care and development in some of the poorest countries in the world.
Richard Moore, Director of Children in Crossfire, said: "We are thrilled to welcome His Holiness back to Derry. He came to the city six years ago as part of our 10th Anniversary celebrations and has been a dedicated patron of the charity since that time.
"We are delighted that people from across Northern Ireland and beyond will have an opportunity to see and hear him speak during this City of Culture year," he said.
"We know that His Holiness is looking forward to returning to Northern Ireland and we hope to make this visit very special."