Londonderry to Coleraine railway line to re-open in March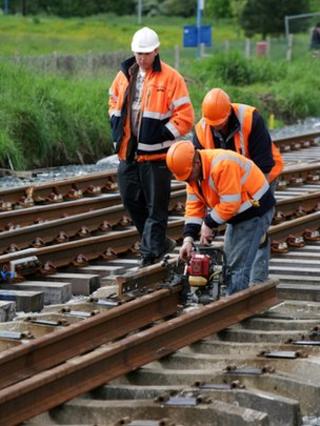 Translink NI have said that the railway line between Londonderry and Coleraine is to re-open on Sunday 24 March 2013.
The track between Derry and Coleraine has been closed for major engineering works since July 2012.
Following the upgrade the first train from Belfast will now arrive in the city before 09:00GMT.
Londonderry is the 2013 UK City of Culture and organisers had lobbied for the railway to be upgraded.
Catherine Mason, Translink Group Chief Executive, said: "We are delighted to be reopening this line in time for the Easter holiday period and hope many people will take the opportunity to travel on this very scenic part of our network.
"In recent weeks we have been busy talking to our customers and stakeholders in the North West to get a consensus on the preferred timetable option. This has proved very helpful for our planning and our thanks must go to everyone who took part," she said.
"There was a clear preference to operate the first train to Derry before 9:00am and we have taken this feedback on board with a train to arrive into the city at 8.25am.
"We believe this will be the first time in the history of our railway that we have had a train arrive into Londonderry from Belfast before 8.30am. From listening to our customers this should be a very popular morning train for both commuters and students travelling to Derry" she said.
"We are very much looking forward to getting services back on track for our customers whether they are travelling to Derry or to Coleraine and beyond. As official transport partner to the UK City of Culture, the rail line will play a key role in bringing visitors to the range of exciting events and celebrations planned throughout the year."
The line is opening slightly ahead of schedule as it was due to open in April 2013.