Family of Derry murder victim challenge his killers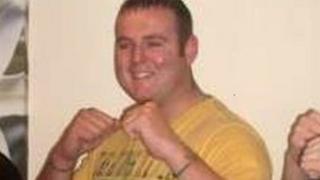 The family of Andrew Allen have challenged his killers to say he was not a drug dealer or a career criminal.
Mr Allen, from Londonderry, was shot dead at his home near Buncrana in Co Donegal on 9 February 2012.
The vigilante group, Republican Action Against Drugs (RAAD), said it carried out the murder.
Andrew's mother, Donna Smith, urged people who know his killers to contact the police on either side of the border,
PSNI or the Irish police (Gardai).
She said Andrew's death has had a huge impact on her family, including his two young children.
"The family is just heartbroken. The last thing you expect to do is bury your child.
"It was a waste of a young life.
She said she lives in hope that his name is cleared.
"I want these people to tell the truth about why they murdered Andrew. They're using an excuse.
"We know as a family this is more personal. They need to come out and say the real reason," she said.
Ms Smith said she has confidence in the Garda (Republic's police) investigation into the murder. She said she is satisfied with how the investigation is progressing.