Loyalist stage flag protest at City of Culture concert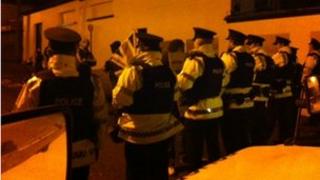 Two men have been arrested as 150 loyalists waving flags and carrying placards staged a protest in Londonderry on Sunday night.
One of the men is expected to appear in court on Monday, the other next month.
The protest was held close to the UK City of Culture Sons and Daughters concert.
Police contained protestors in the streets off the Limavady Road although about 30 people got onto the road for a short time and blocked traffic.
There was also brief disruption to traffic on the Glendermott Road.
Prominent loyalist, Leslie Mitchell, who was at the protest, accused the police of being heavy handed.
"It was a totally over-reactionary response to a peaceful protest.
"We are saying this is an absolute disgrace, it is total oppression of peaceful protest.
"Under the United Nations' declaration of Human Rights, Article 20, we have the right to peaceful gathering and peaceful protest and this is being suppressed by the PSNI tonight.
"We wanted to make a peaceful protest outside, not inside, outside the site of the Ebrington facility where the concert was taking place, we wanted to use that opportunity to highlight what we are trying to say."
The PSNI issued the following statement in relation to the protests.
"Police can confirm that a crowd of approximately 150 loyalist protesters attempted to cause disruption and block roads during the opening UK City of Culture "Sons and Daughters" concert in Londonderry yesterday evening, Sunday 20th January.
"The policing operation that was in place ensured all main roads in the area remained open and no disruption was caused to the event by the protesters.
"Two men were arrested during the operation and both have been charged with disorderly behaviour.
"As is normal procedure all charges will be reviewed by the PPS."