100mph car chase in Londonderry: Man appears in court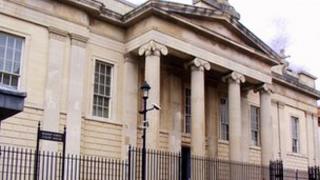 A Londonderry man has been fined and suspended from driving after a 100mph car chase with police in the city.
Thomas Hyndman, 22, Milltown View in Newbuildings, admitted driving without insurance, speeding and driving his girlfriend's car without her consent.
The judge described Hyndman's speed as outrageous and fined him £900 and disqualified him for 18 months.
The court heard police stopped at lights behind Hyndman's car on the entrance to Foyle Bridge on 6 October.
Hyndman then sped across the bridge and the pursing car was driving at over 100mph before the police caught up with Hyndman at Nelson Drive.
A defence solicitor said Hyndman panicked when he saw the police car stopped behind him.
He said the car belonged to Hyndman's girlfriend and he took it without her consent.
The solicitor said in 2010 Hyndman was also convicted of taking a car belonging to another girlfriend without her consent.