Magee campus hosts international media conference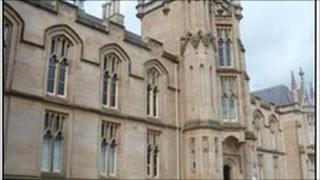 A three-day international media conference begins on Wednesday at the Magee campus of the University of Ulster.
Journalists, filmmakers, television producers and photographers are among the line up of contributors.
It is one of the first major events to be held in Derry~Londonderry as part of the UK City of Culture 2013.
The conference is expected to generate much discussion about media representation and national identity.
The programme includes contributions from the world of film and TV studies, media production, journalism, radio, photography, creative writing, publishing, interactive media and the web, as well as media practice and media studies in higher education.
This will be the first time that the annual conference has been held in Northern Ireland.
According to event organisers, Professor Martin McLoone and Professor Maire Messenger Davies, it has generated a lot of interest and attracted some "big hitters".
The programme includes media analyst Roy Greenslade, professor of journalism at City University London, writer and blogger for the Guardian newspaper.
Also on the programme are Dr. Beatriz Garcia, head of research at the Institute of Cultural Capital, University of Liverpool, and expert on Cities of Culture programmes; Phil Redmond, creator of television shows such as Brookside, Hollyoaks and Grange Hill and veteran of Liverpool's European City of Culture year in 2008; and Shona McCarthy, chief executive of Culture Company 2013.
Conference organiser, Professor McLoone, is the director of Ulster's Centre for Media Research.
"Being part of the City of Culture year-long programme of events gave us a unique advantage and an edge over other academic institutions looking to host the event this year. I'm delighted that I'll have the privilege and honour of welcoming my peers from around the world to my home city," he said.
Professor McLoone said that the theme of the conference, 'Spaces and Places of Culture', coupled with Derry~Londonderry hosting UK City of Culture, meant that the three day event has attracted more than the usual number of international delegates.
"We have submissions from scholars who might not normally come to a MeCCSA conference: scholars of architecture, tourism, heritage and city studies, as well as media scholars studying representation of place and space in film, television, photography and digital media.
"An action-packed year in the media policy arena has also produced a number of submissions on press regulation and the Leveson Inquiry.
"It seems, too, that there will be strong national (Ireland, UK) and international (China, USA, eastern Europe) themes.
"Derry~Londonderry, as its dual name implies, has been a divided space, geographically, politically and culturally. Its selection as UK City of Culture highlights this conflicted identity since the city's traditions are both Irish and British.
"We expect that national and regional identity will be strong themes throughout the conference and will generate a lot of debate among delegates."
Professor McLoone added that although this is an academic conference, the broad theme of Spaces and Places of Culture meant that a full range of interests would be catered for, with some of the screenings in city centre venues such as The Playhouse and Nerve Centre open to the public.