Londonderry traders disappointed by Christmas market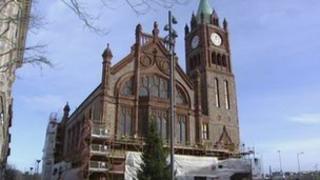 It was in the city for three weeks but it seems Londonderry's first continental-style Christmas Market did not prove the big hit that was hoped for.
The organisers say traders were disappointed with the numbers.
Vanessa Clarke, from the Dublin-based VSC Events Ltd, which ran the market, said events like these took several years to establish themselves.
But she said no decision has been made on the future of the market
"It takes a few years to find what works in the city and what doesn't," she said.
"I don't think it was anything peculiar, I think it was just year one and year one was always going to be a tricky year.
"We did three of these markets throughout the 32 counties and the season wasn't great this year.
"It was good but it wasn't great, and I think people have expectations and sometimes they are not met.
"There was no difference between Derry and Cork for example, except that Cork is in year three."
Vanessa Clarke said traders in Derry were disappointed by the footfall over the three weeks.
"We haven't done the debrief with Derry City Council but we might look at the number of days, maybe it was a bit too long for Derry, we don't know, so we have to go through the whole thing."
A spokesperson for Derry City Council explained that a debrief would be held with the Christmas Market Company.
They said that as a new initiative for the city, all feedback and comments were welcome to assist with shaping any future activity.