Connecticut-based Londonderry teacher reflects on shootings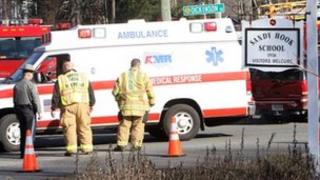 A Londonderry man who teaches in Connecticut has been speaking about the shootings at the Sandy Hook Primary School where 20 young children and six teachers died.
Ronan O'Leary lives in the town of Westbury with his wife Amy and daughters Erin and Kiera, near where the massacre took place.
His wife is also a teacher whose pupils are first graders like a number of those killed at Sandy Hook.
He said the news is difficult to take.
"I was at work, I'm a high school teacher, and I was eating lunch when one of my colleagues came in and told me there had been a shooting," he said.
"The shootings took place about 20 minutes from where I live.
"The information was filtering in and the longer it went on we found out the severity of it and how many people were killed, how many children were killed.
"It was shocking when we actually found out the numbers."
Vulnerable
Mr O'Leary said as a teacher and a father the news made him feel vulnerable.
"The more the news sank in and the more I thought about it, I starting thinking 'I am a teacher could, this happen to me or my wife?'
"Those thoughts start running through your mind once the initial shock wears off."
Mr O'Leary said previous school shootings in the United States forced him to think about his own safety and the Sandy Hook massacre, so close to home, has brought those thoughts back.
"I am starting to think about what my evacuation procedure is going to be, what do I do if this happens at my school," he said.
"It is a terrible thing to think about, you are going to school which should be the safest place for your children apart from your home.
"As a teacher I am responsible for all those children in the class, I am going to have to do something.
"Some people are saying that maybe teachers should be armed also, but I think that is crazy.
"It is just a crazy discussion to have, that I should have a firearm in my class in case someone comes in to shoot the place up."