Lifeboats called as fishing boat loses power on Swilly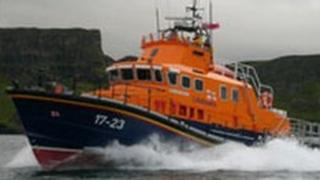 A 50ft fishing boat had to be towed ashore on Sunday after it lost power near Fanad Head in Donegal.
The Lough Swilly lifeboat attempted to tow the vessel in, but extra resources had to be called in after their towline broke 10 times.
It took nine hours, three lifeboat crews and 10 towlines to rescue the vessel.
Joe Joyce from the lifeboat said weather conditions were bad as the rescue operation got under way.
"Conditions out there were fairly choppy, fairly gusty, but the boat eventually made it to Rathmullan.
"As we started off the tow, the rope broke 10 times and because the boat was full of crab we needed some more assistance so the Portrush lifeboat was launched.
"We also have a relief boat in Buncrana which was also launched so three lifeboats attended and we managed to get it pulled a good bit up the Swilly.
"The engineer finally got the engine going and she came into Rathmullan on her own power.
"It was a nine-hour operation so it was a long day.
"There were five people on board the vessel and part from an unpleasant experience everybody was safe and well."