Strabane man stranded in Somerset floods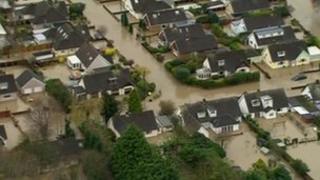 A Strabane man has been stranded in Somerset in floods that have affected many parts of England.
Conor Doherty, who now lives in Taunton in Somerset, has been flooded three times in the past week.
His family have been living upstairs in their farmhouse as the ground floor has been underwater for the past week.
He said his family decided not to evacuate their home as it is a working farm.
"We decided not to leave because this is our home but it's also our farm. We have livestock to attend to. The livestock and sheep are ok but we are worried about the cattle.
"We've had water coming into our home three times.
"We were able to deploy sandbags but we didn't have enough. The Marines gave us some more which helped however the water was to strong at the back of the house. It's a stone building so the water got through," he said.
Insurance cost too high
Conor was unable to get insurance because he lives on a flood plain. He said the premium was too high.
"My farm is insured but not my home. My wife and I decided to do without it but be prepared if any flooding comes. The cost was just too high."
"We're on red alert. It's an anxious time for us all," he said.
About 200 flood warnings are in force in England and Wales.