Criticism over delay in questioning 'Sunday' soldiers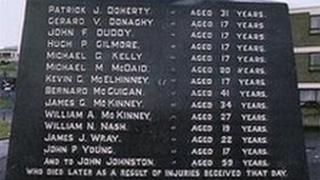 The police have been criticised by some families of those killed on Bloody Sunday over their failure to arrest or interview soldiers.
Peter Madden from Madden and Finucane Solicitors said they will be considering all 'legal remedies' available to the families.
The PSNI admitted that no soldiers have been arrested or questioned.
Mickey McKinney, whose brother William was killed on Bloody Sunday, said there was no excuse for the delay.
"I think it is fair to say, that my family and the families seeking prosecutions, are not happy.
"In fact we are very angry that this has not moved any quicker."
Peter Madden, of Madden & Finucane Solicitors which represents a number of the Sunday families, said the delay was unacceptable.
"It is staggering that almost two and a half years since Lord Saville delivered his report and the Prime Minister stated unequivocally in Parliament that all of the deceased and injured were shot without justification, that the Police Service of Northern Ireland (PSNI) has failed to take any reasonable steps to progress the prosecutions of those responsible.
"We will be considering all legal remedies available to the families in order to compel the PSNI to complete their enquiries without any further delay.
"Their abject failure to do so, bearing in mind the considerable work done by the Saville Inquiry, is completely unacceptable, and has significantly undermined the rule of law and administration of justice."
In response the PSNI released the following statement: "Police began a scoping exercise earlier this year to determine investigative issues following the publication of the Saville report.
"This has now been concluded and consideration remains ongoing as to the future resourcing of the investigation which will be both lengthy and complex.
"We are committed to resourcing this investigation into the events of 30 January 1972, but this has to be determined against competing priorities which pose a risk to the public today."