Prison officer is photographed in court during trial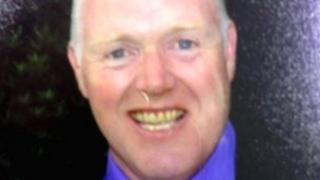 It has emerged that a prison officer was photographed in court in Londonderry on the same day his colleague David Black was murdered.
It happened on 1 November as two men appeared on terrorist charges.
Details of the incident emerged on Wednesday as the two men were back in court on weapons charges.
Mark Kerr, 25, from Carrabane Walk and Anthony Michael Taylor, who is 44, from Bishop Street were remanded in continuing custody.
They are accused of possessing a rifle with intent.
When the pair last appeared before the court earlier this month, an unidentified person used a mobile phone to photograph a prison officer and Mr Taylor, who was in the dock at the time.
On Wednesday, district judge, Barney McElholm, said he was aware of what happened on that day and described it as a "very serious incident".
"Considering the murderous event which took place that day I am not prepared to allow that sort of thing to happen again.
"I want the court cleared of anyone who is not a close family member, or a friend, but I will allow a few members of the public to stay.
"But I can not take the risk of someone taking a photo again."
Mr McElholm then warned that anyone whose mobile phone went off would be arrested and their phone would be confiscated.
Mr Black was shot and killed as he drove to work along the M1 in County Armagh on 1 November.
He was the first prison officer to be murdered in Northern Ireland for 20 years.
A new dissident republican paramilitary group, calling itself the IRA, has claimed responsibility for the shooting.