Plastic bag levy team will be based in Londonderry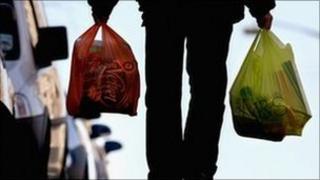 The team set up to implement the plastic bag tax which is to be introduced in Northern Ireland next year, will be based in Londonderry.
The new levy will come into effect in April.
The regulations will require sellers to charge their customers a 5p levy for a broad range of single use carrier bags, not just those made of plastic.
The Regulations will also require sellers to pay the proceeds of the levy to the Department of the Environment.
The Derry based in house Carrier Bag Levy Team (CBLT), will look after collection of the levy and ensure that sellers implement the charging arrangements effectively.
Before the regulations come into force, retailers will be required to register as sellers of carrier bags.
After this, collection of proceeds of the levy will be undertaken on a quarterly basis.
Sellers will be able to make payments on line, with first payments due in July 2013.