Council asks for gold postbox for Jason Smyth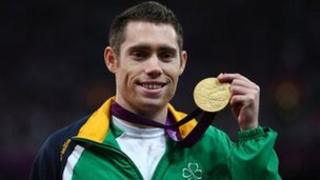 Derry City Council is to write to Royal Mail asking them to paint the postbox in Eglinton gold in honour of local Paralympian Jason Smyth.
The County Londonderry sprinter won gold in the 100m and 200m in London.
Royal Mail said he does not qualify for the honour because he runs for Ireland, not Team GB.
SDLP councillor Thomas Conway, who brought the motion before the council on Wednesday, said Jason's achievements should be recognised.
"This is not about politics, this is about sport.
"It's about recognising a fabulous individual who has brought great honour to his village, to his area, and to the whole island of Ireland."
Dr Richard Manning, who is organising a homecoming celebration in Eglinton on Saturday, said he had also contacted Royal Mail about the postbox.
"I have been in communication with them but unfortunately we got a similar response.
"They adopted the very strict line that because he hadn't run for GB then he wouldn't be entitled to this recognition.
"I would like to think the Council's intervention might make a difference, but it appears that somebody's just looking at a set of regulations and that's the way it is.
"There's a very strong feeling here in the village that there should be some recognition for Jason.
"It's a very small token, and it's the small things in the world that matter to people.
"I think for Jason and his family it would be very appropriate, and I think people here would really appreciate it," he said.