Youths replace bonfire at scene of last month's riots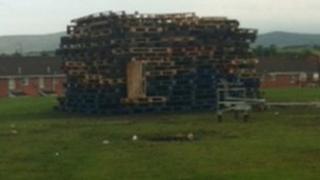 Community leaders in Galliagh in Londonderry say they are concerned about the appearance of a bonfire overnight.
It comes just weeks after the removal of material at the same spot which sparked three nights of riots.
The community leaders in the area said they were hopeful the bonfire would not take place.
They had organised a three-day festival to give young people something else to focus on.
One of them Peter McDonald said, "There is a small number of youths hell bent on building bonfires. At no time were we under the illusion that there wasn't going to be a bonfire. In this area we are trying to find an alternative."
Mr McDonald added that he felt it was an act of defiance from some people.
"People are stock piling material in their back gardens to have a bonfire. But these people must understand that they have a tenancy agreement with the Northern Ireland Housing Executive, and that tenancy could be very much in jeopardy.
"I really hope if the bonfires go ahead tonight that it's not a repeat of last year or any other year because there was absolutely terrible consequences from those fires and I hope those people can be stood up in this community and they can be accountable and explain to our people why and what was their reason for all of this."