Crowd watch Derry triathlete Aileen Morrison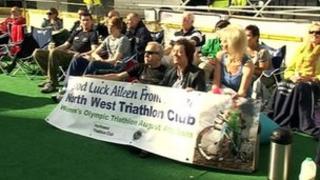 About 70 people have gathered at the big screen in the centre of Londonderry to cheer on triathlete Aileen Morrison.
The Irish competitor finished 43rd in the event.
The 30-year-old Derry woman was 37th after the swim and then fell off her bike on the first lap of the cycling.
Morrison was aiming for a place in the top 10 after a excellent build-up to the Olympics.
She came off at a corner where a number of other competitors fell.
"As I came round the first lap at Buckingham Palace, I just came down on that corner and it happened in slow motion," she said.
"I was sore but I thought if I could stand up and get on my bike then I was going to keep going.
"I didn't spend four years training to give up on the first lap.
"I wasn't here to win a medal, I was here to give it everything."
Joe Doherty from the North-West Triathlon Club was one of those watching on the big screen in Waterloo Place.
He said while Morrison would be disappointed with her overall finish, everyone was very proud of her achievements in getting to London for the 2012 Games.
"It just didn't come together for her, she had a hard swim, there was a breakaway in the swim which she wasn't in on and then she crashed on the bike," he said.
"She shouldn't be disappointed because I think she did us all proud."