Tickets fly as benefactor makes Derry concert free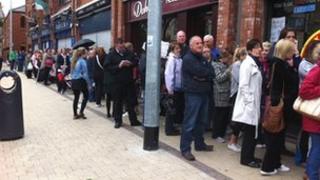 All tickets for the Peace One Day concert in Ebrington Square in Londonderry have been snapped up.
The tickets were offered free on Friday after benefactor Michael Hamyln offered to pay for them.
People who had already paid for tickets will get their money back.
The film producer said he is delighted to have made the gesture.
The concert on 21 June marks the start of the London 2012 Festival .
It will be the first major event to be staged at the arts quarter, which was formerly a military barracks.
The line-up includes Pixie Lott, Dublin singer Imelda May, indie-rockers Guillamots, Derry's Wondervillains and Newton Faulkner.
Founder of Peace One Day Jeremy Gilley said: "It's incredible that someone has come forward to make the concert free.
"I'm delighted. This opens the doors to everyone. It'll be a wonderful show in a wonderful city."
The free tickets were made available at 10:00 BST on Friday morning and ran out in less than two hours.
The director of the London 2012 Festival, Ruth Mackenzie, said the concert will "highlight the key theme of how sport and culture can resolve conflict.
"We are really grateful that thousands of lucky people will now be able to join in the celebration for free."
The event also marks the three-month countdown to Global Truce, a campaign that promotes peace.
The culmination of the Global Truce campaign will be another Peace Once Day concert in London on 21 September, the day of Global Truce and World Peace Day.