Cliff Richard and Snow Patrol on City of Culture plan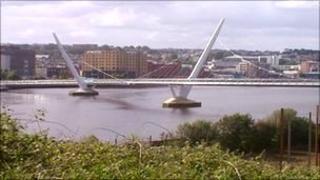 More than 100 events, including appearances by Sir Cliff Richard and Snow Patrol, are on a draft programme of events for Londonderry's UK City of Culture celebrations.
The document seen by BBC Radio Foyle is a draft of a highlights programme to be launched on 30 May.
Other events include a return of landmark theatre company Field Day, and the Turner Prize and Stirling Prize.
Sporting highlights include Ulster's first rugby match in Derry.
There will also be visits from La Liga and Premier League football clubs.
The first major concert of 2013 features famous 'Sons and Daughters' of Derry, including the Undertones, Phil Coulter, Paul Brady, and the Priests.
There will also be a Danny Boy Youtube competitition to find the best rendition of the famous song, as well as a Teenage Kicks music festival for under 18s.
The Colmcille Spiral will pay tribute to the pilgrimages made by Derry's patron saint, and the Music Promise will provide free musical instruments and tuition for young people.
Ana Leddy, a non-executive member of the Board of the Culture Company, said the final line-up would be impressive.
"There's a small but very determined bunch of programmers in the City of Culture team and they are busting a gut to deliver the most stunning year.
"Any city on this island would give their eye teeth to have the opportunity to deliver this.
"That's ongoing, it's happening, they are working like you wouldn't believe, and it's going to be an amazing year."
'Very impressive'
The BBC's Arts Editor, Will Gompertz, said the draft programme was "very impressive".
"This is really high profile stuff which will put the city on the map.
"For anybody who's considering coming to Britain to indulge in an arts fest, Derry/Londonderry will be top of their list.
"You won't get such a condensed array of different sorts of art forms in one place in one time anywhere else."
Derry was selected as the UK's first City of Culture in 2010.
It will take on the title in 2013.