Inisliroo Island in County Fermanagh is put up for sale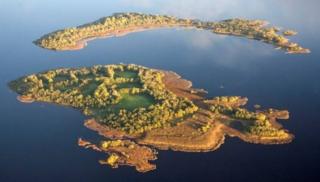 How you ever imagined what life would be like if you owned your own private island?
Such a luxury is usually the preserve of the super-rich and famous, but a much simpler lifestyle is on offer due to an unusual property sale in County Fermanagh.
Inisliroo Island in Lough Erne has gone on the market, with an asking price of £600,000.
The island is currently owned by businessman Noel Cox, who bought it six years ago.
Prior to that it was owner by four generations of Maguires and their original family home is still the only building on the island.
Mr Cox said he saw "an opportunity on a piece of property or a piece of ground at Lough Erne which had been untouched for 25-30 years".
Isolation
He told BBC Radio Ulster that a visit to the island was like "going back in time" where you live "the basic life".
Inisliroo has access to mains water and a phone line, but other modern conveniences are in short supply.
Mr Cox said the island offered the chance to "escape the capture of electronics" and live in splendid isolation.
"It's switching off. You don't have any road traffic, you don't have any noise - it's completely tranquil," he said.
He explained that he was selling the island due to family and business commitments.
But he admitted that after spending years securing planning permission for a replacement dwelling, he had considered keeping hold of it as a family retreat.
"Some people would maybe call it a pipe dream, you know? But we had envisaged maybe doing that, going forward, something that we could use as a holiday home - as a castaway - just spending time on your own."
Inisliroo, near Derrylin, also boasts a private jetty and an orchard, which had been operated by the Maguires during the Second World War.
It is one of 365 islands on Lough Erne.