Dana Rosemary Scallon seeking presidency backing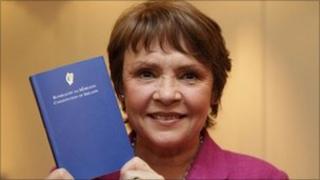 Dana Rosemary Scallon has said it is very important for her to obtain the nominations she needs to stand for the Irish presidency.
The former MEP who found fame in the Eurovision Song Contest has said she is backed by more than one independent member of the Irish parliament.
The Derry native needs the backing of 20 parliamentarians to stand.
She has called for a more open process freed from the control of the political establishment.
Dana previously stood in 1997 when she came third behind Mary McAleese and the Fine Gael candidate Mary Banotti.
She has not revealed exactly how many parliamentary backers she has. She has until 28 September to obtain the support she needs.
Seen as a social conservative, Dana was MEP for Connacht-Ulster between 1999 and 2004.
Presidential candidates must secure the support of either at least four city or county councils or 20 members of parliament.