Kennedy calls for more money for Derry rail link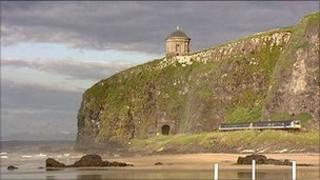 The transport minister has said he will ask the Stormont Executive for more money for a major upgrade of the Londonderry to Coleraine railway line.
Danny Kennedy met with Derry MLAs, MPs and councillors on Wednesday to discuss the future of the service.
He again expressed his commitment to the Derry rail link, but said he does not have the funding for an upgrade.
Last week Mr Kennedy announced work on the line would be delayed because of a lack of funding.
A full upgrade - costing £75m - will now not be completed until 2016-17.
Instead safety work will start next year. A third of passengers will be transferred by bus while the work is underway.
Local politicians had asked to meet with the minister to discuss the impact the delay will have on transport services in the area.
Speaking after the meeting, Mr Kennedy said he understood their concerns, but simply didn't have access to the necessary levels of funding.
"I am committed to the Londonderry rail link and also maintaining it," he added.
"I have been open and honest and said I don't have £75m at the minute. I think there is a significant challenge in terms of the current budget that I inherited.
"The situation as I find it is I don't have that £75m."
'Positive'
The mayor of Derry, Maurice Devenney, said the meeting was positive.
"There were no promises or guarantees given, but I'm a great believer that if there's a will, there's a way.
"He did give an agreement that he would go back to Stormont to see if there is any additional money, and I would be hoping there will be.
"The transport minister got a very strong message yesterday from all the public representatives that people in this city do believe they're being treated as second-class citizens, and we as a council are going to push on this issue."
The transport minister also warned that even if the money became available immediately, work would not be finished in time for Derry's year as City of Culture in 2013.
Derry's City of Culture Company has warned the upgrade delay could cause problems in 2013.
The company chair, Martin Bradley, said rail access was a "top priority".
"It's nonsense that visitors to the city should not be able to avail of a direct rail service."
SDLP councillor Gerard Diver, who was at the meeting, said the lack of a proper rail link during 2013 would be "hugely damaging".
"A modern, properly-resourced rail link is a defining aspect of a modern city in the 21st century, and it will be disastrous if that is downgraded.
"It is essential that the Executive find the money to do this.
"If you look at the list of things that have been said no to in the past, the radiotherapy centre, Project Kelvin, the roads, we've turned some of these things around and we'll have to the same thing here, and I think it's by common purpose that was shown at the meeting that we can best do that.
"For once Derry needs to get what it actually deserves from the pot."