PSNI job 'should not impact GAA membership'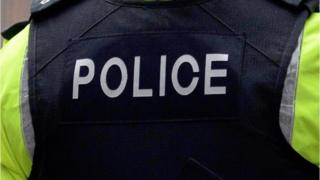 A senior member of the Ulster Council of the Gaelic Athletic Association (GAA) has said players should be able to join the PSNI without impacting their membership at a club.
Provincial secretary Brian McAvoy was speaking at a GAA conference on Wednesday.
The conference was attended by a number of police officers.
Last month a former PSNI officer spoke of the hurt he feels towards his former GAA club, Kickhams Creggan.
Peadar Heffron was seriously injured by a dissident republican bomb after joining the PSNI.
Describing himself as "a very bitter man", he said he was angry at how he was treated after joining the police.
The comments were made in an interview with former All-Ireland winner and GAA pundit Joe Brolly for the Sunday Independent.
Addressing a conference in the Armagh City Hotel, Mr McAvoy said he hoped "justice will prevail" and that those responsible for the attack would be caught.
He told delegates that Mr Heffron had joined the PSNI just three months after the GAA had removed a 16-year-old rule which banned members of the security forces joining clubs.
Leg amputated
After leaving his local club, he helped form a PSNI Gaelic football team and became its captain.
"Not everyone adapts to change at the same pace and it is fair to say that not every GAA member concurred with the decision of the GAA to remove Rule 21 in November 2001 and it was going to take a lot longer than three months to change all mindsets," Mr McAvoy said.
"Peadar Heffron got to realise this first hand when he was treated less than respectfully by some of his team-mates and club members when he joined the PSNI in the spring of 2002."
Mr Heffron's leg was amputated and he suffered other serious injuries after a bomb exploded under his car in Randalstown, County Antrim, in 2010.
'Unfair criticism'
He now uses a wheelchair.
Mr McAvoy spoke of the "harrowing tales" of how the former police officer "was shunned by former colleagues" when he joined the police.
"The Sunday Independent headline screamed out at us - 'spurned, bombed and maimed by his own kind'.
"It sent a shiver through our spines," he said.
But the GAA's Ulster secretary said Kickhams Creggan had been subjected to "some over the top and unfair criticism" since the article.
Stating that he believes the GAA has matured as an organisation in the seven years since the bomb attack, Mr McAvoy said the GAA at all levels works closely with the PSNI across a range of initiatives.
He then addressed the issue of GAA members joining the police.
"Peadar Heffron is a proud GAA man - the GAA is in his blood and always will be," he said.
"Indeed, in recent times, he has managed his current GAA club and he is a key member of the Ulster GAA wheelchair hurling team.
"He was also a proud PSNI officer.
'Unequivocal support'
"If any good can come of this sorry tale let it be that the message should be heard loud and clear that any GAA member who wishes to consider a career in policing should do so free in the knowledge that it will not impact in any way on the membership of their local GAA Club.
"We at least owe that much to Peadar."
The comments have been welcomed by Assistant Chief Constable Stephen Martin, who was one of a number of PSNI officers to attend the event.
In a tweet posted afterwards, he said he was pleased to attend and noted the "unequivocal statement of support" from Ulster GAA "for their members who choose a career in PSNI".
The Ulster Council retweeted his message to its 65,500 followers.