Blackhead Path rock fall warning signs ignored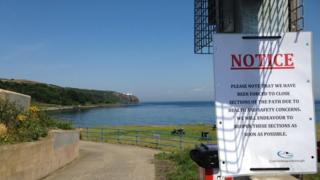 People who are ignoring signs not to walk along a County Antrim coastal path are putting their lives at risk, the mayor of Carrickfergus has warned.
Part of the Blackhead Path, which runs between Whitehead and Islandmagee, has been shut since last week following a rock fall.
Fences and signs warning people of the risk of falling rocks have been put up, but some people have ignored them.
Charlie Johnston said it had been made clear that the path was not safe.
Mr Johnston said they wanted to reopen the path "as soon as possible".
"The path is used so much and we see it as a tourist attraction," he said.
"The council has invested a lot of money in it - last year we spent £200,000 by putting netting up on the rock-face to preserve it.
"We've got a consultant to look at costings and what we can do, but in the short-term, we've had to close it.
"It can be seen by anyone that it's not safe to go any further."