Gun cartridge left at Carrickfergus Alliance office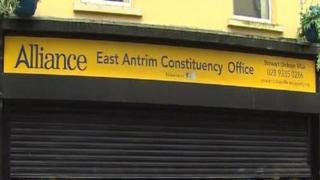 A shotgun cartridge has been found in a plastic box tied to the lock of an Alliance Party constituency office in Carrickfergus, County Antrim.
It was found at the office in West Street on Friday morning.
Alliance East Antrim assembly member Stewart Dickson said his party would not be intimidated.
"This is yet another senseless attack on the hardworking Alliance team in East Antrim," he said.
"There is absolutely no justification for this level of intimidation and there should be no place in our society for those who wish to spread fear and intimidation."
Police said they responded to a report of a suspicious object at the office and the object was later removed and after further examination it was found to be a shotgun cartridge.
Last week, there was a hoax bomb alert at an Alliance office in east Belfast.
There have been a number of attacks on Alliance properties following a Belfast City Council vote in December 2012 restricting the flying of the union flag at the City Hall.