Gun seized at New Lodge, north Belfast, home 'used in attack'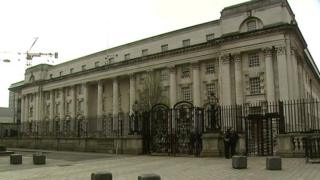 A gun seized at a house in the New Lodge area of Belfast may have been used in at least one paramilitary-style shooting, the High Court has been told.
The gun was one of three found during the search of Denis Patrick O'Keefe's Little George's Street home last month.
The court was told a sawn-off shotgun was found wrapped up in socks in a cupboard in the living room.
A rifle and pistol were also located in a holdall in the downstairs hallway of the house, a prosecutor said.
The prosecutor told the High Court that Mr O'Keefe was arrested, and during two police interviews "he refused to answer any questions in relation to the weapons".
Around six weeks prior to the weapons being seized, a paramilitary-style shooting was carried out in north Belfast, and the court heard that as a result, 49-year-old Mr O'Keefe's house was searched and the guns found.
Forensic examinations are ongoing, but the prosecutor said that one of the weapons seized in Mr O'Keefe's house may have been used in the paramilitary-style attack.
The prosecutor also told the court: "The police believe these weapons were being stored by the applicant for others, and may have been used in further attacks."
The Crown, he said, was objecting to bail for a number of reasons, including a risk of further offending, and a risk of interfering with witnesses as it is understood O'Keefe knows the victim of the attack.
'Lot of ifs and buts'
A defence barrister described the prosecution case against his client as "a lot of ifs and buts and suspicions" and said there was "no suggestion" that Mr O'Keefe "had any direct involvement in the use of a firearm at any time".
The barrister also pointed out that if it was the Crown's case that his client was storing the weapons, the "risk of repetition" would evaporate if he was granted bail as he would be subject to police checks and conditions.
After telling the court "possession of a firearm is a serious offence, possession of three firearms is even more so", Lord Justice Higgins said if O'Keefe was "storing or keeping these weapons on behalf of other persons, these other persons must have considered him to be reliable."
Lord Justice Higgins added: "I do not consider this to be an appropriate case to grant bail and I therefore refuse the application."