Ravenhill Road closes after hole discovered below traffic lane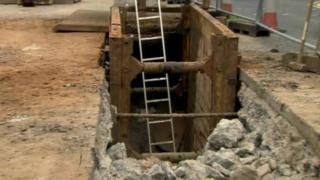 A main road in east Belfast has been closed until further notice after a large hole was found below a traffic lane.
The Ravenhill Road closed on Monday after contractors found a "large void" while carrying out work for Northern Ireland Water.
A Department of Regional Development (DRD) spokesperson said the closure was "for the safety of road users".
The road was already operating with one lane due to work at Park Road junction.
However, DRD said the discovery of the hole by contractors required "emergency work" to ensure the road is "structurally sound".
The road is closed between Ravenhill Park and South Parade.
Cars travelling into Belfast city centre will be diverted onto the Ormeau Road, at the Rosetta roundabout, while country-bound traffic will be diverted via the Ormeau Embankment.
In a statement, Northern Ireland Water said: "Further details will be carried on the Trafficwatch NI website and updates will also be carried on NI Water's website.
"Due to the unforeseen nature of the problem, the extent of the work required to repair the road fully is not yet clear and as such the longevity of this closure has not been established."
The DRD added: "We understand that this will cause disruption and ask motorists to be patient while these vital repairs are completed."